Tourmie's area guide is a great way to show your guests that you care about their experience. It can provide them with all the information they need to discover your area, such as the best restaurants, shops, attractions, and other places you recommend in the area. This can save them time and hassle, make their experience easier, and help them get the most out of their stay.
In this article:
---
Add places to the map
Go to Area Guide by clicking on the Guest Guide page in the left menu.
Click the "Add new" button.
Fill in all required information.

Place's title
Place's type
Place's location (Tip: To easily find the exact location of a place on the map, simply fill in the name of the place in the "Street" field.)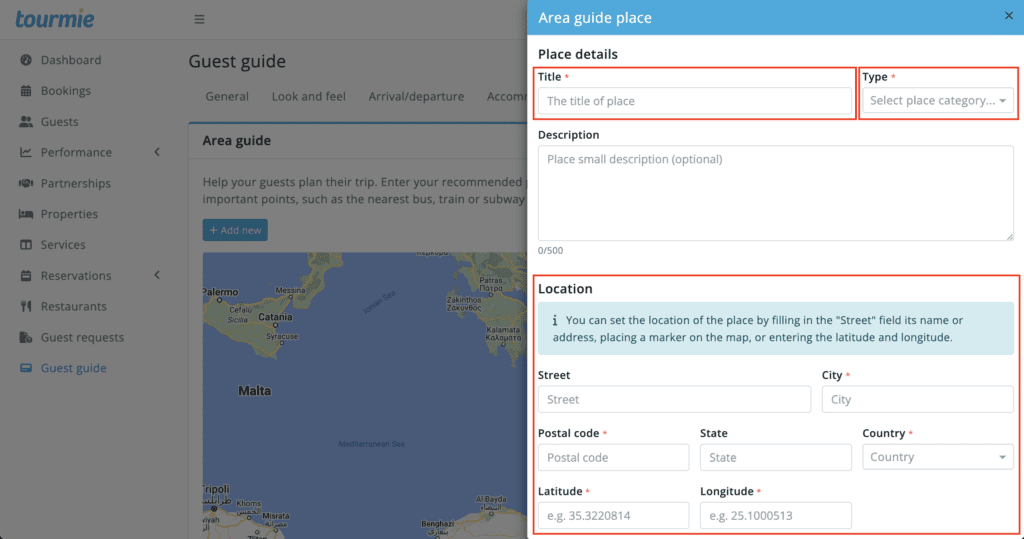 Click the "Apply" button at the end of the page.
Once you have finished entering your recommended places on the map, click the "Update" button.
---
Personalize the content
Add your own touch to your area guide. For each place you add to the map, you can customize the content to fit your needs.
Description:
Describe to your guests what makes each place unique and why it's worth visiting.
Place image:
If possible, add your own photos (just make sure the photos are in good resolution!).
Discount:
Do you have a special discount for a restaurant, attraction, or any other place? Let your guests know about this discount and how they can take advantage.
Once you've finished adding content to your places, click the "Update" button.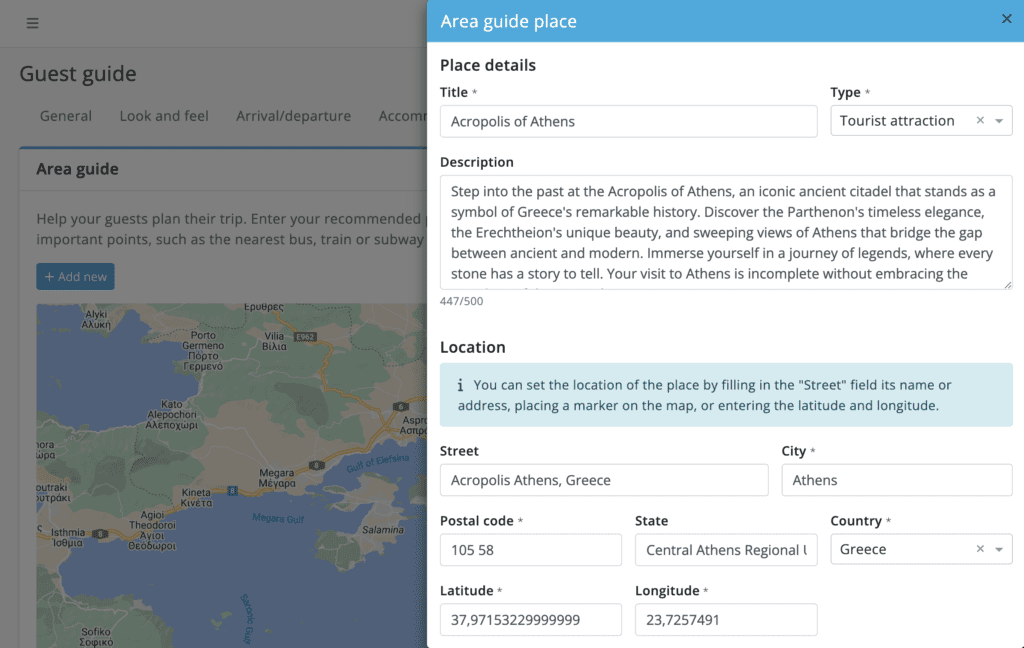 ---
Display format for place listings
(To change the display format of your recommended places to a list, press the icon "
").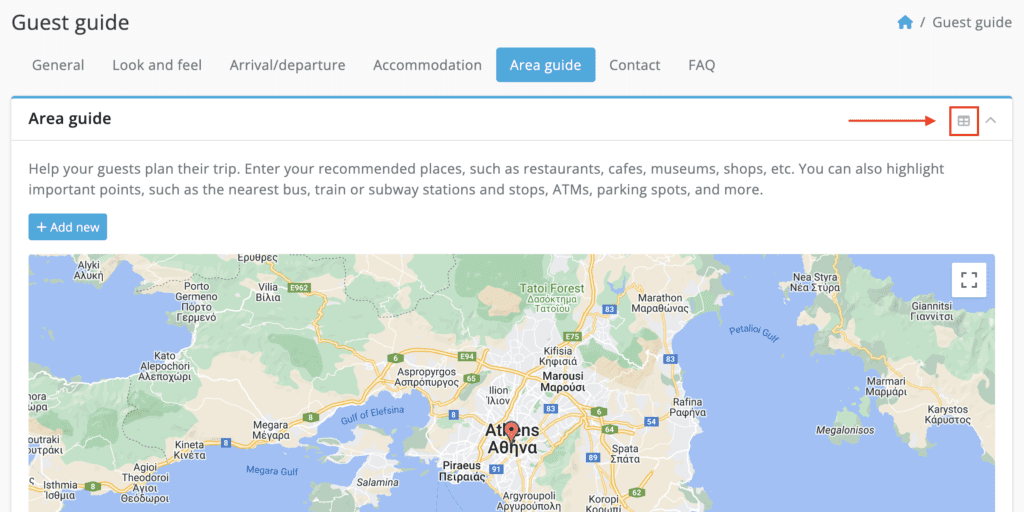 (To change the display format of your recommended places to a map, press the icon "
").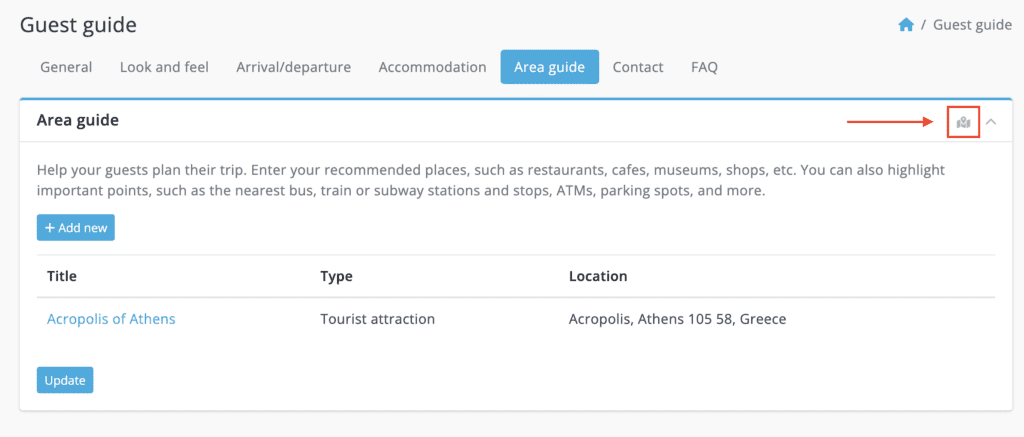 ---
Edit or delete places on the map
To edit or delete a place, select it directly from the map or the list.
Select the place directly from the map

Select the place from the list

Then:
To edit: Edit the place and click the "Apply" button located at the bottom right of the page.
To delete: Delete the place by clicking the "Remove" button located at the bottom left of the tab.
Once you have finished editing or deleting places, click the "Update" button.
---
See places on the area guide
To see how your recommended places appear on your area guide, go to your Guest Guide URL from the Guest Guide page.
---
Tips for creating the perfect area guide
Here are some tips to create the perfect area guide for your guests:
Make it personal. Share your own favorite recommendations with your visitors. This will help them get closer to you, learn the secrets of your place, and explore your area like a local.
Cover a wide range of place recommendations in your area guide, including restaurants, shops, attractions, transportation, and anything else your guests would find useful to know about your area.
Personalize your recommendations based on your audience. For example, if your audience is families with children, you can recommend activities such as playgrounds, parks, and museums. If they are couples, you can recommend romantic activities such as dinners at restaurants, spas, massages, or cruises.
Keep it up-to-date. Follow the trends in your area and adjust your recommendations accordingly. For example, if there is a new popular restaurant in your area, make sure to include it in your area guide.
---
Share your area guide with guests
Once you've completed your area guide, you can start sharing it with your guests to help them plan and simplify their stay. Some suggested ways to share your area guide:
Automated Email & SMS messages: A few days before your guests' arrival, send them a pre-arrival email and/or SMS that includes a warm welcome, check-in details, and a direct link to the Area Guide. Highlight how the guide will enhance their stay by offering local insights.
QR code: Print Tourmie's QR code and place it in a visible area within your hotel or property. This allows your guests to scan it with their smartphones and access the area guide instantly.
Booking channels: If you have the ability to directly message your guests or create automated message templates through your booking channels, include the area guide in your communications.
Personal messages: If you communicate with guests personally through various messaging applications such as WhatsApp, Messenger, or Viber, share the link to your Area Guide and highlight its benefits. This adds a personal touch and shows your dedication to enhancing their stay.
Social media: If you use social media to connect with your guests, share the link to your Area Guide on your hotel's or property's social media profiles.
Website: Add your area guide's link to your website. This can catch the attention of your potential customers and encourage them to learn more about your hotel or property.
If you still have questions about Tourmie's area guide, feel free to contact us here.